Give your desserts a twist with these 6 food fusion recipes
Food and Culture
Give your desserts a twist with these 6 food fusion recipes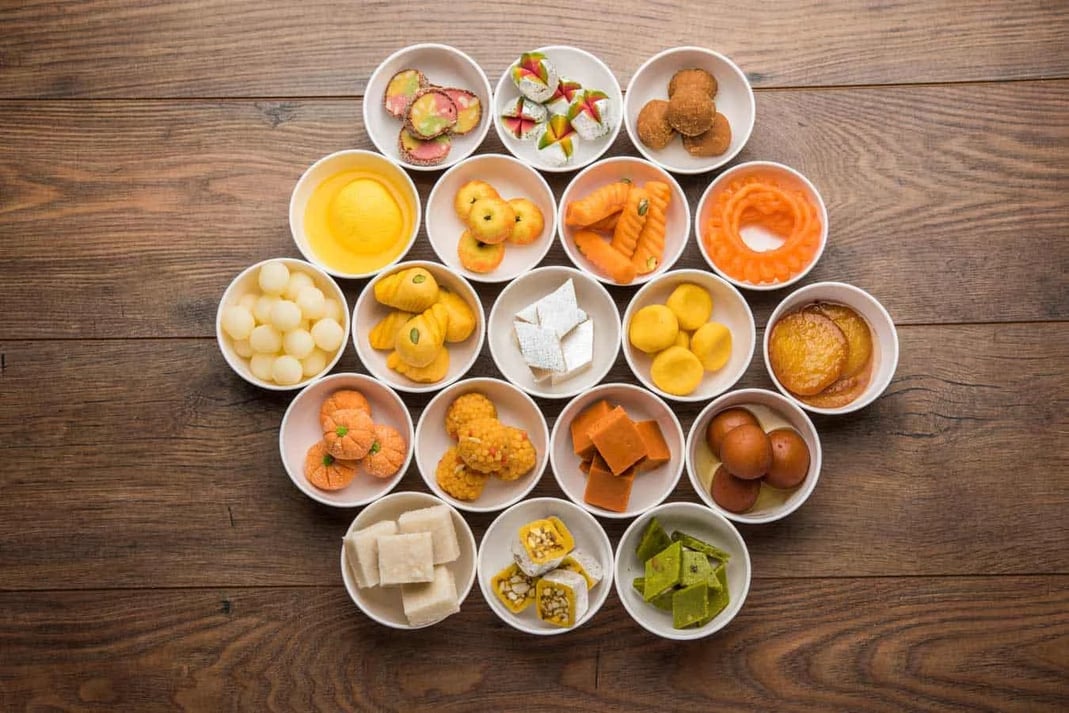 Kheer-e-choco
Shift the spotlight to this kheer recipe with a twist. This recipe takes the classic milk and rice pudding to a whole new level by packing in a punch of chocolate to elevate its taste. The rose water and cardamom add a layer of complexity, while the cashew and rose petals toppings give it that extra pizzazz. This decadent rice pudding is sure to win hearts at the first spoonful. Serve it in a cocktail glass for an interesting visual appeal.
Oreo Mysore Pak
Traditional Mysore pak has a unique chewy but melt-in-mouth texture that makes it stand apart from other Indian sweets. This fusion version retains the special quality of the mithai but with an added crunch from Oreo cookies that makes it irresistible for all the chocolate lovers in the house. The roasted gram flour in ghee along with chocolate in the Oreos make this mithai the epitome of food fusion recipes.
Easy Chocolate Modak
Traditional modaks are steamed, sweet dumplings that are handmade on auspicious occasions like Ganesh Chathurthi. Modaks come in a variety of flavors and can be customized to your liking. Here we are exploring modaks with a hint of chocolate. These fusion modaks are made with the goodness of desiccated coconut, full-fat milk, and milk powder along with some irresistible Cadbury Dairy Milk Cadbury Five Star chocolates. Use cute modak molds to create the traditional modak shape.
Chocolate Sandesh
Move over traditional sweets, chocolate sandesh is the IT dessert to keep on hand for a sweet craving this holiday season. Dairy products, especially paneer, is a strong source of protein, calcium, and phosphorus, so this chocolate sandesh is as healthy as any Indian sweet can get and a wonderful dessert option at any house party. This recipe uses a handful of ingredients like homemade paneer, grated chocolate, and diced pistachio among others. Best served cold, this fusion sandesh is a great way of indulging in your sweet tooth.
Choco Laddoos
Laddus are a popular Indian delicacy prepared in countless regional variations. Making traditional ladoos can be a time-consuming process. So, let us explore a simple chocolate laddoo recipe. These choco laddoos are quick and easy to make, without a compromise on the taste! But best of all, this recipe requires no stove or oven time, and ideal for making with kids, or you can try these recipes with your little ones. You can garnish them with colorful sprinkles, desiccated coconut, Cadbury Gems, or jelly beans for added joy.
Chocolate Barfi
If you are looking to revive the old-world charm of traditional mithais but with a modern Indian twist, this recipe is perfect for you. With the perfect balance of flavors and minimal sweetness, our chocolate barfi will charm your guests instantly. With rich ingredients like condensed milk, diced nuts, and ghee, this chocolate barfi recipe is a decadent delight that can be easily made at home.

You may also Like