Looking for a chocolate dessert for your New Year's Party?
Celebration Desserts
Looking for a chocolate dessert for your New Year's Party?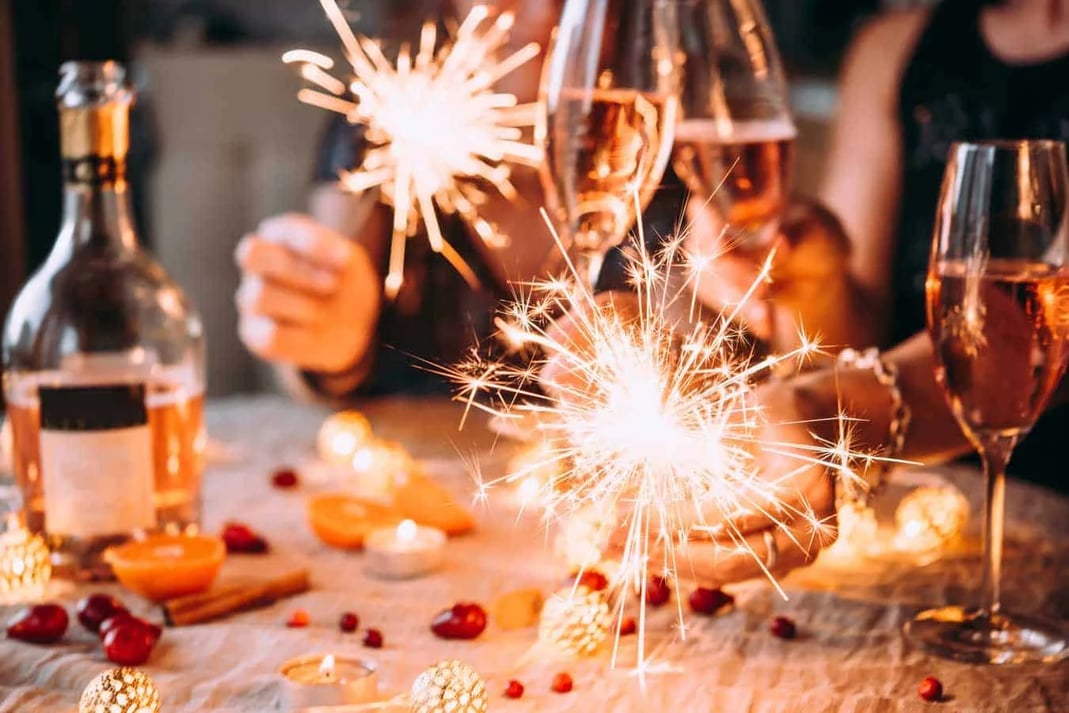 Chocolate Orange Spice Cake
You better reserve the best spot on your table for this gorgeous showstopper cake. This cake pairs two of our favorite holiday flavors with chocolate. Can you guess what they are? Orange and cinnamon! This eggless orange chocolate cake is perfect for a big gathering on new year's eve so you don't have to worry about making separate desserts for your vegetarian guests. The glorious icing on this cake is made using whipping cream with cinnamon powder and sugar. It is a forgiving frosting and ideal for beginner bakers. All you do is whip up the cream and spread it over the cake with a spatula. You can choose any kind of garnish for this cake. Candied orange slices or cinnamon sticks are great. But if you want to go all out, consider edible flowers as toppings. If that's Greek to you, read this post on using edible flowers for cake decorating.
Eggless Strawberry Chocolate Cake
Tall cakes have been in trend for quite some time now and this one is a real looker – a classic showstopper for your new year's eve party. This is a three-layer chocolate cake with a chocolate buttercream frosting and fresh strawberries. Pure decadence, we say! No eggs are used in this recipe. Instead, we use buttermilk that is made easily by mixing milk and lemon juice. You can also make the cake ahead of time and keep it moist using a simple syrup solution. The frosting can be kept in the fridge and used just ahead of time. For a large gathering, try doubling the recipe. Trust us, this cake will vie for your guests' attention all night long!
Guilt Free Choco Cake
If you are a fan of dry cakes then this Guilt Free Choco Cake should be your go-to chocolate dessert recipe! Made using whole wheat flour and jaggery, this cake has a slightly dense and chewy texture. As the name suggests, this is a fairly healthy dessert as far as chocolate cakes go. It uses only half a cup of oil and yogurt to keep it nice and moist. The sliced almonds give it some extra crunch and the chocolate chips hidden in the cake give it bursts of delicious chocolate. Bake this if you are looking for a slightly healthier dessert on new year's eve.
Oreo Jelly
If you are looking for something that is a little different from regular cakes and tarts, try this delicious Oreo Jelly recipe. This jelly-cake is built up in layers. The first layer is made using whole Oreo cookies over which a clear layer of agar agar jelly is poured. The second layer is an opaque layer made with crushed Oreos, condensed milk, and jelly. The 'cake' is topped with a chocolate-flavored jelly and dusted with cocoa powder for that extra kick of caffeine. Kids love this 'cake' and will probably run around with their jiggling jellies all about the house. Don't say we didn't warn you! But if jelly isn't really your thing, you can also make this Oreo Chocolate Cake.
Oreo Salted Caramel Bark
For a boozy night in with friends and family, try these crunchy Oreo Salted Caramel Barks as a sweet finger-food variation in your snacks bar. These come together in a jiffy and can be easily made ahead of time. The 'barks' require only three ingredients – caramel, semi-sweet chocolate chips. The extra sea salt gives these desserts an added flavor profile, and we recommend that you don't skip this step. If you can't get hold of sea salt flakes, feel free to substitute it with regular table salt. We promise that these are so yummy they will be flying off the plate in minutes!
Silk Roast Almond Brownies
When in doubt, bake a brownie. That's our mantra and should be yours too. These chocolate brownies tick two very important items of our what-to-bake-for-a-party checklist: easy and quick! The chocolate in this recipe comes from Cadbury Silk bars which make these brownies dense and flavorful, while the almonds give these fudgy brownies that much-needed crunch and savoriness. These beauties are best served a day later, so you can easily prepare them ahead of time.

You may also Like